To:

Rishi Sunak, Chancellor of the Exchequer
Bounce Back to Green - with a Green New Deal for the UK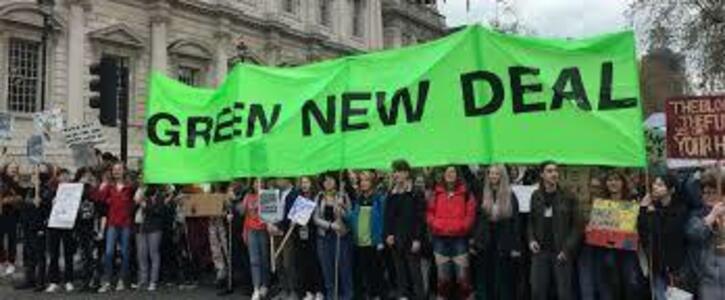 We, the undersigned, call on you to bring a transformative Green New Deal to Parliament, to be enacted as the UK's Growth Strategy. This will ensure that the UK bounces back from Covid-19 to a fair, green future.
Why is this important?
We, the undersigned, know that bouncing back to black fossil fuels is not an option. Tragically, the fossil fuel economy kills more people in the UK, every year, than Covid-19 (as at 12/05/20). We know this because, each year in the UK, 40,000 people die prematurely, due to outdoor air pollution (Royal College of Physicians and the Royal College of Paediatrics and Child Health, 2016). We also know that this cannot be allowed to continue.
A transformative Green New Deal is the answer. An ambitious plan that will secure a safe climate and fairer society by totally transforming our economy (Green New Deal UK, 2019).
PLEASE SIGN AND SHARE THIS PETITION
We have learnt a lot from Covid-19 that will help us.
1) The Government has learnt how to listen to the science and act as if it matters. The Green New Deal must deliver on science based targets to put the UK on a net zero greenhouse gas emissions trajectory, that is in line with limiting global heating to 1.5 degrees.
2) We have also learnt the true value of all our key workers and how to care for those in need. The Green New Deal must deliver social and economic justice by providing secure, well paid, green jobs for all and training for those affected by the transition. It must also care compassionately for those who need extra help.
3) Those of us with access to nature have learnt to appreciate clean air, clear skies and the sound of bird song. The Green New Deal must deliver environmental justice by giving everyone the opportunity to connect with nature and enjoy the benefits.
It is time for a green recovery where the health and wellbeing of all people and the planet are put at the centre of a sustainable growth strategy, powered by a Green New Deal.
SIGN AND SHARE NOW
Together, let's make sure that the next phase of our recovery is green.
GREEN GROWTH > CUT POLLUTION > SAVE LIVES
PLEASE SIGN AND SHARE AS WIDELY AS POSSIBLE.
How it will be delivered
I plan to email the signatures and if possible, stage a press conference.